Our Mission
For I am my mother's daughter, and the drums of Africa still beat in my heart.

– Mary McLeod Bethune
The Society's mission is to educate African Americans and the public at large about the history and culture of San Francisco's African American community. The Society accomplishes its mission by:
documenting, preserving and presenting true accounts of the African American experience;
providing a forum for the discussion and analysis of relevant local, national and international issues,
encouraging, fostering and promoting the study and appreciation of African and African American history and culture
and by instilling in African Americans, especially African American youth, a sense of pride in themselves and their heritage.
Annually, the Society offers a wide range of interpretive programs, exhibits, scholarly forums, tours, research projects, cultural performances and publications to approximately 3,000 visitors of all ages and ethnicities.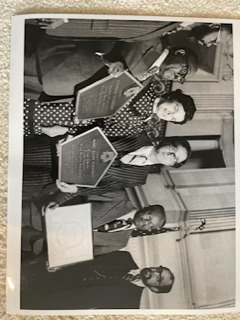 Located in the African American Art & Culture Complex in the heart of San Francisco's Fillmore District, the Society is a resource to students, educators, authors, film makers, community groups, public officials, corporations and anyone interested in learning about African American history and culture.
Our research library and archives contain approximately 3,000 books by or about African Americans, more than 500 rare books and pamphlets, and archival material, including unique collections such as the "Blacks in the West" monograph series and "The Walking Tour of the Black Presence in San Francisco During the Nineteenth Century"*, both sponsored by the Society. The library also houses the Howard Thurman Listening Room, containing audio tapes of one of the 20th Century's foremost theologians.
The Society is a membership-based institution. Membership is open to people of all ages, races, and ethnicities who support our mission.
*Copies of the "Walking Tour" are available for a small donation at the Society offices. Please visit or contact us at 415-292-6172 or email us at info@sfaahcs.org