TRANSITIONS
Harry Belafonte Mar 1, 1927 – Apr 25, 2023 Singer, actor, activist, popularized calypso music in the US, starred in historic film roles and served with others as spokesperson and fund raiser for the mid-century civil rights movement, remaining a clear voice in freedom struggles everywhere.
Jim Brown Feb 17, 1938 – May 19, 2023 Football player, actor and activist, most valuable player and served on championship team with the Browns, 53 acting credits, and supported the civil rights movement and beyond for equality and justice for all.
Tina Turner Nov 26, 1936 – May 24, 2023 "Queen of Rock and Roll," lead singer in Ike and Tina Turner's Review, after breaking with her abusive spouse, experienced a meteoric and enduring rise to stardom in music and film before retiring to Switzerland.
Gus Newport Apr 5, 1935 – Jun 17, 2023 Outspoken politician and citizen of the Bay Area, supporting progressive causes and persons, best known publically for his days in Berkeley on the City Council and as Mayor. Read more
Society's newsletter available Online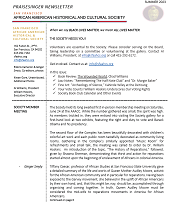 You may download the newsletter from the PDF reader
Who We Are
The San Francisco African American Historical & Cultural Society is open to people of all ages, races and ethnicities. Our mission is to educate African Americans and others about the history and culture of San Francisco's African American community. To do this, a variety of programs, events and exhibits are presented. The Society maintains an archive of historic and cultural items and a research library. Black History Month observances, including "kick-off" and theme-based programs are our keystone activity. More at Mission and Collections.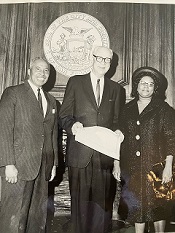 Contact Us
We are located at AAACC, 762 Fulton Street, 2nd fl., San Francisco California, 94102
AAACC Information
The Society library and gallery are now open on a limited basis. Best call before visiting. 415-292-6172 or email Info@sfaahcs.org

YOUR HEALTH MEANS A LOT TO US!
COVID, Flu and other serious infectious diseases are still with us. The Society urges you to get vaccinated for COVID, influenza and pneumonia when you visit next your primary care doctor.
Black Lives Matter Stop AAPI Hate and Violence!