HONORS
Laphonza Butler, Senator, US Congress
Governor Gavin Newsom kept his promise to appoint an African American woman to fill the term of the late Diane Feinstein. A distinguished career, most recent serving as President of Emily's List.
TRANSITIONS
Raynard Hillis, Aug 5, 1966 - Sep 23, 2023
Reverend Hillis served 9 years as pastor of the historic Double Rock Baptist Church founded by Victor Meaderis. He was co-chair of the African American Faith Based Coalition Serving the Bayview Community.
Diane Feinstein, Jun 22, 1933 – Sep 29, 2023
served as California Senator to the US Congress from 1992 to her death. Her long tenure and political astuteness made her an influential person in the Senate. As San Francisco Mayor, her bravery and leadership helped us respond to the assassinations of Mayor Moscone and Supervisor Milk, the start of the AIDS epidemic and other political and cultural upheavals. She was a friend to the Society.
Richard Roundtree, Jul 9, 1942 – Oct 24, 2023
beloved actor, best known for his role in the "Shaft" franchise. Roundtree was the first on-screen actor to be internationally known to portray a Black action hero.
Society's newsletter available Online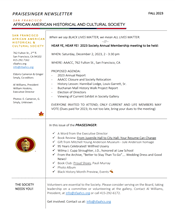 You may download the newsletter from the PDF reader
Who We Are
The San Francisco African American Historical & Cultural Society is open to people of all ages, races and ethnicities. Our mission is to educate African Americans and others about the history and culture of San Francisco's African American community. To do this, a variety of programs, events and exhibits are presented. The Society maintains an archive of historic and cultural items and a research library. Black History Month observances, including "kick-off" and theme-based programs are our keystone activity. More at Mission and Collections.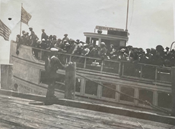 Contact Us
We are located at AAACC, 762 Fulton Street, 2nd fl., San Francisco California, 94102
AAACC Information
The Society library and gallery are now open on a limited basis. Best call before visiting. 415-292-6172 or email Info@sfaahcs.org

YOUR HEALTH MEANS A LOT TO US!
While the COVID 19 pandemic is over, COVID is still here. Older adults and people with immune comprised status should consider getting the latest boosters for COVID, flu, RSV and pneumonia. Check with your primary care provider. If you need assistance, check out the San Francisco Department of Public Health's website for help.
Black Lives Matter Stop AAPI Hate and Violence!
Blacks in the West Part 2 of 3
Philip Alexander Bell and the San Francisco Elevator, part 2 of 3 by John H. Telfer, excerpted from "Blacks in the West" Monograph No. 1, 1976
… Both long-free Negroes and those newly freed faced mountainous problems in struggling to achieve a place in American society. The 13th, 14th, and 15th amendments to the federal constitution would have to be fought for, then applied locally where the people lived. Bell and his associates recognized their central task in this crisis and stated in this way:
"There are two questions which seem to demand attention of the thinking man among us: Shall we sustain our schools and our paper, or shall we be without educational facilities for our children, and without a voice in the formation of that public opinion which rules the empire? … schools form the public mind – the press guides and controls it. Mind is power. Then we must educate and develop mind."
How precarious education for Negro children in San Francisco 100 years ago can be seen from the apparently arbitrary closing in 1868 of the only school for color children by General Cobb, a Texan who had become the City Director of Public Schools. In 1867, soon after being elected, Cobb had declared this Broadway school should be removed because, being contiguous to a white school, it was a nuisance.21 He returned to the attack early the next year with the proposal that the school be removed to remote location and all color teachers be replaced by white teachers.
According to Bell, this Broadway school had been going well with a near regular attendance and student progress "until General Cobb commenced his crusade against the school. We charge him with malignant and persistent opposition to our school because of our color. Ever since he has been on the Board he has endeavored to have that school broken up. He first pronounced it as a nuisance; now he says the black children behave worse than the white children. How consistent! He has achieved his object and he cannot be surprised if we are indignant." 22
… Cobb was vulnerable on the basis of his previous treatment of Negroes in Texas and at this point Bell struck hard. He charged Cobb was once a slave trader in Galveston, Texas, and that his practice was to take slaves from planters for debt and sell them again. …The Director of Schools was driven to admitting that he had owned ten or a dozen Negroes, but tried to evade the charge of trading. But the editor would not let him off. "We have proof and we can produce time and place, name and identity." It must have come as considerable shock to the Texan to find he must now contend in public with an intellectual of the same race some of his members he had once owned and sold as animals. 23
A committee of Negroes interviewed state and county school superintendents and several members of the Board of Education. They got promises and even hoped for two schools better located for Negro children. But after several years of stop gap measures, we find P. A. Bell made chairman in 1872 of a state-wide committee to raise money to fight for Negro entry into public schools. In April, 1870, California new school laws provided that "the education of children of African descent and Indian children shall be provided in separate schools. Upon written application of at least 10 children, a separate school shall be established. Further, "the same laws, rules, and regulations which apply to schools for white children shall apply to schools for colored." 24
These provisions, anticipating the "separate but equal" doctrine of the 1890s, by no means satisfied Bell and his associates. 80 years before the historic school desegregation decision of 1954, they began an attack on the law as "unjust and unconstitutional... as it abridges the privileges and immunities of citizens of the United States… It is moreover arbitrary in its discrimination." Although official recognition of the correctness of this position was long in coming, the tattered issues of the San Francisco Elevator bear witness to those who stood for full democracy in American life.
"Set us right before the law" was the major theme of California Negro pleas in the early Reconstruction period. By this they meant the common rights of citizens, the political franchise, the advantages of the free school system, and equality before the courts. But they looked beyond these technical civil liberties to equality with others in developing the economic resources of the country "with all is avenues to wealth." "Give us these, in common with the other race, and we will be right before the law." 26
Before the 15th amendment was born in 1870 the Elevator argued steadily for its passage and for repeal of California's exclusion of Negroes from the franchise. On October 17, 1867, a public meeting was held at the at the A. M. E. Church on Powell Street to prepare a petition to the California Senate and Assembly. S. Denenton was chosen chairman, and P. A. Bell, secretary of a committee to present the plea to the legislature. It identified the petitioners as colored citizens of California, native born American citizens, of full age, average intelligence, who "are noted for being a law-abiding class, respecters of all the statutes in the land … and they are taxpayers. By the organic law of this state your petitioners are deprived of the Right of Suffrage, and we respectfully pray" that you recommend a Constitutional Amendment granted suffrage to colored American citizens.
27
Keep watching this site for the final installment of "P. A. Bell" or download an abridged version here. (ADD link to abridged version.) To read the article in its entirety or to see the bibliography, please refer to the original printed copy available at the Society, 762 Fulton St. 2nd fl., San Francisco, CA 94102.