Honors & Firsts
Ketanji Brown Jackson
Associate Justice of the Supreme Court,
Appointed by President Joe Biden and confirmed by the Senate on April 7, 2022! Keep the faith, sister!
Transitions
Denise Perrier
Nov 12, 1939 - Dec 23, 2021
Our jazz diva!
Guy Johnson
Feb 16, 2022, age 77
Maya Angelou's son, kept her memory alive, conferred on SF Angelou monument and on the Angelou coin, arts worker
Frankie Gillette
Apr 21, 1925 - Feb 27, 2022
Long-time Society member, retired social worker, faithful church and club woman, philanthropist (with her late husband)
Mel Simmons
Aug 17, 1941 – Mar 19, 2022
Beloved Fillmore elder, artist, youth and community worker for the last 40+ years
Glenn Nance
Jul 2, 1934 - Mar 27, 2022
Past Society president, educator, artist, parent, son of Ethel Nance
Negroes Migrate to British Columbia
In 1840-1860 Negroes who worked against discrimination in California experienced setbacks in their fight. "An Act To Restrict And Prevent The Immigration To And Residence In This State Of Negroes And Mulattoes" passed the California Assembly. "…Negroes could be transported from the state; those remaining were required to register and Whites could be convicted of bringing Negroes into the state with the intention of freeing them. The bill was contested and was not made into law."
James Douglas, Governor of the British colony in Vancouver, sought laborers and invited Negroes from San Francisco and elsewhere in California to immigrate. Jeremiah Nagle, personally extended the invitation. A lively question and answer period was held at the First Zion AME. They decided to go. Between 35 and 65 persons reportedly left on April 19 or 20th aboard the Commodore (with Captain Nagle) to join the latest gold rush. One of these emissaries returned and gave a positive report about Canada and the treatment of Blacks. A company was formed to enroll immigrants, assist with passage and transition to their new homes; people were recruited throughout California. About 300-400 California families went to Vancouver Island. Among those 1858 "firsts" was Mifflin Gibbs, a newspaper and business man, Colored Conventionist and former abolitionist.
Read James Pilton's, "Negro Settlement in British Columbia, 1958-1871".
To read more about the exodus click here
Society's newsletter available Online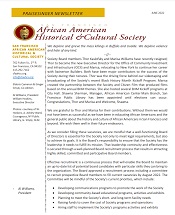 You may download the newsletter from the PDF reader
Recruiting Directors For Society Board
In order to sustain and grow the Society, we need a strong, activist Board. If you are interested in serving or know a candidate with needed skills and interests, please complete a Prospective Directors Form and send it back to the Society offices. Thanks.
Who We Are
The San Francisco African American Historical & Cultural Society is open to people of all ages, races and ethnicities. Our mission is to educate African Americans and others about the history and culture of San Francisco's African American community. To do this, a variety of programs, events and exhibits are presented. The Society maintains an archive of historic and cultural items and a research library. Black History Month observances, including "kick-off" and theme-based programs are our keystone activity. More at Mission and Collections.
Contact Us
We are located at AAACC, 762 Fulton Street, 2nd fl., San Francisco California, 94102
AAACC Information
The Society library and gallery are closed for the immediate future, but keep hope alive! Contact us via email Info@sfaahcs.org or call 415-292-6172.

Black Health And Wellness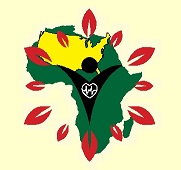 This has been adopted as one of the Society's themes for the entire year. What does this mean for you, your family and community? The Black History Month image (right) prepared by Randolph Bell depicts a map of the United States within a map of the African continent. A black figure in Africa has a cardiac signature, perhaps signifying that Black people are the heart of Africa and America. Our heartbeat and good health are essential to the health of both America and Africa. What do you think?
ATTENTION - COVID IS STILL HERE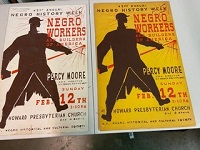 While the number of people/cases reported as COVID positive has increased over the last few months with the latest variant, the number of hospitalizations and deaths have steadily declined. Most people who get infected and are fully vaccinated have no or minor symptoms. Immune compromised, elderly and those with chronic disease continue to be at greater risk for illness. We urge you to use common sense as you return to "normal" activities. Be patient, get tested, get 'vaxxed and boosted, wear masks when you feel uncomfortable, and wash your hands!
For vaccines sites: SF.Gov COVID-19 vaccine sites
Black Lives Matter Stop AAPI Hate and Violence!